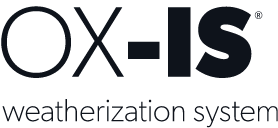 Structural Sheathing
+

Continuous Insulation (CI)

+

Air Barrier (AB)

+


Water Resistive Barrier (WRB)

In just a single-component, the OX-IS® system does what it takes OSB, building wrap, and foam insulation boards to do. And OX-IS does it even better in a significantly lighter, more economical, and single-component solution. A composite of a polymer-coated cellulosic fiber substrate, a high R-value polyiso foam insulation, and a non-reflective facer, when OX-IS panels are installed with OX SeamTape® or OX Arctic-Flash®, the system provides a lasting best-in-class air barrier. OX-IS comes with a 30-year limited warranty.
TESTING DATA
THERMAL R-VALUES
DOWNLOADS